RM Sotheby's will offer two Pebble Beach Concours d'Elegance stars at it Monterey 2018 sale: a 1934 Packard Twelve Individual Custom Convertible Victoria and a1927 Isotta Fraschini Tipo 8A S Roadster.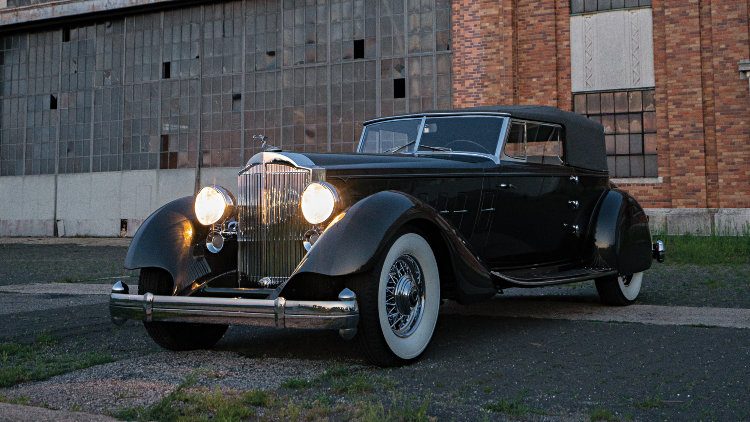 A Pebble Beach Concours d'Elegance Best in Show 1934 Packard Twelve Individual Custom Convertible Victoria by Dietrich (Est. $4,500,000 – $6,000,000) and a two-time Pebble Beach Best in Class-winning 1927 Isotta Fraschini Tipo 8A S Roadster by Fleetwood (Est. $1,500,000 – $2,000,000) originally commissioned by Rudolph Valentino are the latest headline cars announced for the RM Sotheby's Monterey 2018 classic car auction in August 2018 in California, USA. Both cars are offered from the esteemed collection of Judge Joseph and Margie Cassini and both cars were restored by RM Auto Restoration prior to the cars success at Pebble Beach.
RM Sotheby's Monterey 2018 Classic Car Auction
RM Sotheby's Monterey 2018 classic car auctions are scheduled for 24 to 25 August 2018 at the Monterey Conference Center in Monterey, California, USA.
In 2017, RM Sotheby's earned $132,993,810 with a sell-through rate of 88%. RM Sotheby's sold 32 cars for over a million dollar. The top result was $22,550,000 paid for a 1956 Aston Martin DBR1 – a marque and British-made car record.
In 2016, RM Sotheby's grossed $118 million from just over 100 cars – 21 cars were sold for over a million dollar including three that sold for over $10 million and setting new marque records: a 1955 Jaguar D-Type, 1939 Alfa Romeo 8C 2900 B Lungo Spider and a 1962 Shelby 260 Cobra CSX2000 – the most-expensive American car ever.
The world's single auction record remains RM Sotheby's Monterey 2015 when three days of auctions grossed $172.7 million and million-dollar results for 35 cars.
1934 Packard Twelve Individual Custom Convertible Victoria
The 1934 Packard Twelve Individual Custom Convertible Victoria on offer, vehicle no. 1108-65, is one of four extant Dietrich Individual Custom Convertible Victoria examples on the ultimate Packard chassis of the Classic Era, the Eleventh Series Twelve of 1934. The car bears all the typical spectacular Dietrich design cues, with one unique addition in the remarkably curvaceous fenders. The dramatic tapered fenders, with full "skirts" over the rear wheels and streamlined running boards, are known to have been installed on only two cars, this convertible victoria and a phaeton.
The Packard is believed to have been part of the marque's "Traveling Salon," a group of special show cars that made appearances in numerous locales between Detroit and New York. At the end of its tour, the car was acquired by Ricardo LaCosta II, a prominent attorney and future judge from a well-known Puerto Rican family. Following LaCosta's passing, the car was sold and served as a taxi cab in Puerto Rico, eventually making it back to the U.S. in the early 1960s.
The Packard would spend time in the collections of two noted restorers, who began work on the car, before it was sold in 2012 to Joseph – himself a New Jersey Superior Court Judge – and Margie Cassini, collectors of many of the greatest known American and European Full Classics. The pair are known to acquire one or two important cars at a time, carefully restoring them to their very best possible condition, and then showing them at the concours events they so enjoy all over the country. They are frequent Best of Show winners for a reason: only perfection is acceptable.
The Cassinis commissioned RM Auto Restoration to complete the Packard's precise, full restoration. The body is finished in a subtle charcoal hue, with a complementary leather interior in the original Dietrich style. The trim is correct to the car's surviving period photographs, including the unique dual rear-mounted spares and "bumperettes," and the car retains much of the original Dietrich body hardware with which it was delivered, as well as its original chassis, engine, and firewall tag.
Following 14,000 hours of craftsmanship, the Packard made its debut at none other than the Pebble Beach Concours d'Elegance, where it landed 1st in Class and the lauded Best of Show, instantly becoming perhaps the world's best-known Packard. Following this great honor, the car has been selectively exhibited at other prestigious events throughout North America, earning Best in Class and Best of Show at the 2016 Concours d'Elegance of America at St. John's, and Best in Class at the Amelia Island Concours d'Elegance in the same year. Numerous judging opportunities remain on both sides of the Atlantic for the new owner. Accompanied by tremendous documentation, the Packard would be the sure crown jewel of any collection of great American Classics (Est. $4,500,000 – $6,000,000).
"This Dietrich-bodied Packard Twelve is one of the most important and rarest American Classics to ever come up for sale," says Gord Duff, Global Head of Auctions, RM Sotheby's Group. "The one-off fenders give the car a considerably sportier design, clearly pulling inspiration from the Auburn speedster and French coachbuilding of the period. The quality of the restoration is nothing short of over the top, and with known history from new, it simply doesn't get any better than this. The Dietrich Twelve is among the most significant American Classics, and quite possibly the world's best Packard."
1927 Isotta Fraschini Tipo 8A S Roadster by Fleetwood
From a great American Classic to an exceptional European Classic, RM Sotheby's will also present the 1927 Isotta Fraschini Tipo 8A S Roadster by Fleetwood (Est. $1,500,000 – $2,000,000) from the Cassini Collection at Monterey. The Isotta was originally commissioned by legendary film star, Rudolph Valentino. Known to be an involved owner, Valentino was reportedly personally involved in the car's design, carried out by LeBaron of New York City, with the actual body construction handed over to the Fleetwood Metal Body Company, also of New York.
With its long, flared open fenders and low-slung lines, accentuated by classic "long hood/short deck" proportions, it was a showstopper deserving of a Hollywood icon. Unfortunately, Valentino passed suddenly at the age of 31, and would never have a chance to drive the car. His roadster was completed and debuted at the 1926 New York Auto Salon at the Commodore Hotel and then put on display in the front window of Isotta Motors, to be admired by throngs of Valentino's adoring, mourning fans.
The car was eventually sold and gifted to American socialite Peggy Hopkins Joyce. The Isotta would go on to be a part of several important American collections before it was purchased by the Cassinis in 2001, who soon commissioned RM Auto Restoration to restore every nut and bolt to authentic, original condition. Completed in 2003, the restoration earned the car several significant awards, including Best of Show at the Meadowbrook, Greenwich, Lehigh, and St. Michael's Concours d'Elegance, the Elegance at Hershey, and of course, Best in Class at Pebble Beach.
This would not be the car's only appearance on the Peninsula. Following additional careful research by RM Auto Restoration and RM Sotheby's, a correct pleated interior and a proper top in the original design and material were installed and the car returned to the Pebble Beach Concours in 2017 as part of a featured class of Isotta Fraschinis. A testament to the Cassinis' superb care and the workmanship involved, the car was awarded Best in Class again, a remarkable achievement for any important automobile. The most iconic and significant surviving Isotta Fraschini, it is estimated to bring $1,500,000 – $2,000,000 when it crosses the Monterey podium.
Monterey Classic Car Week Auctions 2018
Monterey 2018 Auction Results
Auction Previews:
Pre-Sale Announcements
Bonhams Quail Lodge 2018:
Gooding Pebble Beach 2018:
Mecum  Monterey 2018:
RM Sotheby's Monterey 2018: