RM Sotheby's added a second sale day to its Amelia Island 2017 classic car auction to sell 58 cars from the Orin Smith Collection. The sale will include 22 of the finest coach-built Rolls Royce and Bentley cars in the world. Further marques in the collection include Allard, Aston Martin, Jaguar, Lancia, and Mercedes-Benz. 'A Gentleman's Collection: The Pride and Passion of Orin Smith', is a meticulously presented 58-car collection, which will be offered 10 March 2017 as a prelude to RM's traditional Amelia Island sale.
RM Sotheby's Amelia Island Sale 2017
RM Sotheby's, the official auction house of the Amelia Island Concours d'Elegance, will return for the 19th year to Amelia Island, Florida, for a classic car sale on 10 and 11 March 2017. In contrast to previous years, a second sales day has been added to the auction during which nearly 60 cars from the Orin Smith collection will be sold. Around 80 cars will be on offer in the regular auction.
In 2016, RM Sotheby's earned $38.6 million with a high sell-through rate of 89%. In 2015, RM Sotheby's earned $60 million at Amelia Island with a remarkably high 98% sell-through rate.
Rolls Royces and Bentley at RM Sotheby's Amelia Island 2017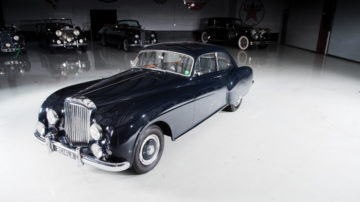 Well-known and highly respected on the international show circuit, Orin Smith was a consummate enthusiast and active concours competitor with a keen eye for detail. His collection – the result of two decades of meticulous curation – represents, at its core, one of the world's finest groups of coachbuilt Rolls-Royces and Bentleys.
In total, 22 vehicles from the two marques will be featured at the March 10 sale.
For those with a predilection for Rolls-Royce, highlights include an authentic 1929 Phantom I Henley Roadster by Brewster, one of only two Henley prototypes built on the Phantom I chassis; an award-winning 1948 Silver Wraith Cabriolet by Franay, complete with streamlined one-off coachwork for French cabaret star "La Môme Moineau"; and the world's most famous PII Continental, the ex-Raymond Gentile 1934 Phantom II Continental Drophead Sedanca Coupe by Gurney Nutting.
For Bentley enthusiasts, the collection contains a show-stopping 1947 Mark VI Cabriolet, one of two bodied by Franay and featuring one-off coachwork commissioned by its original owner, A.J. Liechti; along with a beautifully restored, factory left-hand-drive 1952 R-Type Continental Fastback Sports Saloon by H.J. Mulliner, formerly of the Bud Lyon Collection and complete with factory 4.9 engine upgrade.
'A Gentleman's Collection: The Pride and Passion of Orin Smith'
Beyond its concentration on Rolls-Royce and Bentley motor cars, the Gentleman's Collection has a secondary focus on sports and performance vehicles, including powerful examples from the likes of Allard, Jaguar, Lancia, Mercedes-Benz and more. In the market for an Aston Martin? The collection covers everything from prewar to modern models, including a 1966 Aston Martin Short Chassis Volante, the first such example built.
Then there is unique, jet-age design, showcased by such striking examples as the 1953 Lancia Aurelia PF200 Cabriolet, a unique Pinin Farina concept on the rare Aurelia B52 chassis, displayed at the 1953 Geneva and Turin motor shows; and, an exquisite 1953 Fiat 8V Supersonic by Ghia, originally delivered to powerboat racer Lou Fageol.
"I had the great pleasure of knowing Orin Smith and found him to be a true gentleman in every sense of the word," shares Don Rose, Car Specialist, RM Sotheby's. "In addition to his impressive gathering of some of the finest Rolls-Royce and Bentley automobiles, Orin displayed an eclectic taste with a keen eye for other icons of style, including sporting machinery from prewar to the best of the contemporary. The common thread here is beauty, in both design and engineering; fitting for a man of generous spirit devoted to excellence. Because of those qualities, Orin Smith was beloved to the Amelia Island crowd, which makes the offering of his collection at our Amelia Island venue all the more poignant."
Other early highlights already announced for the RM Sotheby's Amelia Island 2017 auction include a 1937 Bugatti Type 57S Cabriolet by Vanvooren and a 1961 Ferrari 250 GT SWB Berlinetta.
More on Amelia Island 2017