A red 1956 Jaguar D-Type (Estimate: $10,000,000–$12,000,000) and a 1965 Ferrari 275 GTB Speciale (Estimate: $8,000,000–$10,000,000) are the two lead cars for the Gooding Scottsdale 2018 classic car auction in Arizona, USA, in January 2018.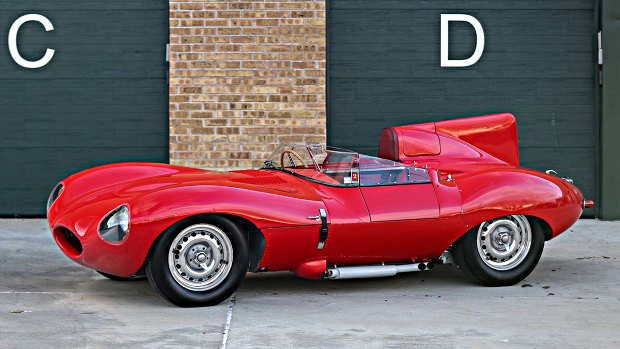 Gooding & Company's two leading cars for the Scottsdale 2018 sale are a 1956 Jaguar D-Type campaigned by famed racing drivers Peter Blond and Jean Bloxham and a one-off 1965 Ferrari 275 GTB Speciale custom built for Battista Pininfarina. The Jaguar is one of only two of the 67 D-Types built for clients finished in red by the factory. The Ferrari 275 GTB Speciale is the only 275 with coachwork by Pininfarina and differs in almost every detail from the cars finished by Scaglietti.
Gooding Scottsdale 2018 Classic Car Auction
Gooding & Co will hold its 11th annual Scottsdale classic car auction on January 19 & 20, 2018, at the Scottsdale Fashion Square, in Scottsdale, Arizona, USA.
In 2017, Gooding gained $33.4 million at the Scottsdale auction by selling 106 of the 126 lots on offer – a good 84% sell-through rate. The top result in 2017 was $3.3 million – a new model record for a 1925 Bugatti Type 35 Grand Prix. In 2016, Gooding grossed $43 million from 113 cars and in 2015 it achieved $51.5 million from 126 cars on offer.
1956 Jaguar D-Type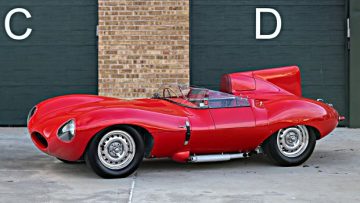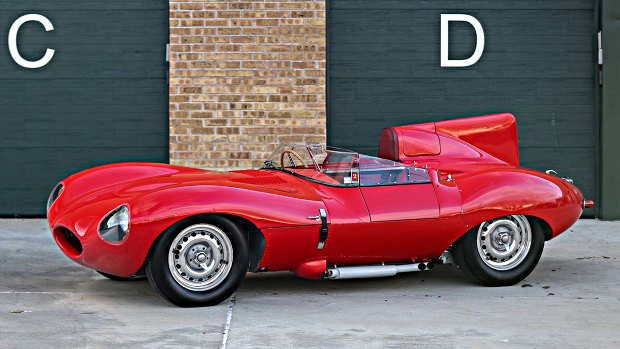 A 1956 Jaguar D-Type, chassis XKD518, (Estimate: $10,000,000–$12,000,000), is the lead car for the Gooding Scottsdale 2018 sale
The Jaguar D-Type took the racing world by storm when it debuted, delivering three consecutive overall wins at the 24 Hours of Le Mans (1955, 1956, and 1957). Jaguar developed the car as a replacement for its C-Type under the direction of company founder William Lyons and chief engineer William Heynes. Utilizing the latest advances in aircraft and automotive technology, the D-Type featured a high-strength alloy monocoque chassis with steel subframes and a state-of-the-art aerodynamic body made from lightweight aluminum. Sensing tremendous demand from its clientele, Jaguar built 67 customer D-Types for privateers to campaign at renowned events.
The highly original 1956 Jaguar D-Type, XKD 518, is one of only two D-Types delivered in a dramatic red livery. The first private owner was famed British racing driver Peter Blond, who purchased the car from motorsport icon Bernie Ecclestone. Blond raced XKD 518 until 1957, with highlights including a 5th Overall at the Aintree 100, a top 10 finish in the Goodwood Trophy, and a win at the Snetterton National Race. After Blond sold the Jaguar in 1957, XKD 518 had several prominent owners including famed racer Ms. Jean Bloxham and Led Zeppelin band manager Peter Grant.
The 1956 Jaguar D-Type is in its distinctive original livery with its matching-numbers engine, XKD 518 is a superb example of a customer D-Type that possesses a well-documented UK racing history and a rich, unbroken provenance.
RM Sotheby's will sell one of the six works Jaguar D-Types on the same day expecting a result of $12 to $15 million. The record for a Jaguar D-Type is the 1956 Le Mans-winning 1955 Jaguar D-Type that RM Sotheby's sold for $21,780,000 at Monterey 2016 – a record for Jaguar and a Le Mans-winning racer.
1965 Ferrari 275 GTB Speciale
The Ferrari 275 GTB Speciale, chassis 06437, (Estimate: $8,000,000–$10,000,000), is the only 275 GTB designed and built by the legendary house of Carrozzeria Pininfarina, rather than by Scaglietti. The Ferrari was built for special display and show purposes, as well as for Mr. Battista Pininfarina's personal use.
Though it shares a similar shape to the original short-nose 275 GTB, the myriad bespoke details inside and out make 06437 truly special. Some of these major details include a completely one-off interior treatment with special seats, electric windows, and Heuer Rally-Master stopwatches. Exterior details include more prominent front indicators, recessed side marker lights, a special grille, unique headlamp covers with no chrome surround, custom-built window frames, even sleeker door handles, and a distinctly revised hood to fit the desirable six-carb intake setup on the V-12 engine.
One of the most memorable features of 06437 is its distinctive rear diffuser, which features three curved panels placed vertically below the bumper, filling the area between the exhaust tips. Battista Pininfarina also specified that there be no driver's-side vent window – a feature he disliked, as he believed it distracted from the purity of the design. When new, the 275 GTB Speciale was finished in Acqua Verde Metallizzato, an elegant blue-green color selected from the Alfa Romeo catalogue, and trimmed in rich China Red leather upholstery.
Battista Pininfarina was so proud of his personalized 275 GTB that he unveiled it at the company's winter press conference in Switzerland. This was followed by appearances on the Pininfarina display stand at the 1965 Frankfurt Motor Show, the 1965 Paris Motor Show, the 1965 Torino Motor Show, the 1965 Florence Concours d'Elegance, and the 1966 Brussels Motor Show.
The car was beautifully restored to its original appearance in 1992 and was shown to great acclaim at several concours events. The Ferrari was then sold to its current owner, who has largely kept this significant car out of the public eye for over 25 years. One of the most important and distinctive Ferraris ever built, this 275 GTB Speciale is a masterpiece of mid-century industrial art that represents the intersection of two of the most famous Italian firms working at the height of their powers.
"What could be better than one of the most original D-Type Jaguars and a one-off 275 GTB Ferrari with countless special features built for Battista Pininfarina? Both possess everything that the most discerning collectors value – spectacular design, impeccable provenance and rarity," states David Gooding, President and Founder of Gooding & Company.
These two lead cars will complement other cars already announced for the Gooding Scottsdale 2018 sale including other top Ferraris, modern hypercars and blue-chip classics, including a 1931 Bugatti Type 55 Roadster (estimate $4,000,000-$5,000,000).