A 1932 Bugatti Type 55 raced by factory-driver Louis Chiron at Le Mans is an early highlight announced for the Bonhams Paris 2020 Grand Palais classic car auction.
Bonhams announced a 1932 Bugatti Type 55, chassis no. 55221, with unique roadster coachwork by Figoni for the Paris Grand Palais sale during the traditional Retromobile classic car week in Paris in February 2020. This magnificent Bugatti was a factory entry at Le Mans where it was raced by Louis Chiron and Count Guy Bouriat-Quintart. It is one of the 38 Type 55 Super Sport chassis produced by Bugatti. It is fitted with a unique coachwork by Figoni. No estimate has been released.
1932 Bugatti Type 55 at Bonhams Paris 2020
The 1932 Bugatti Type 55 – chassis no. 55221 – which started life as a works entry in that year's 24 Hours of Le Mans, co-driven by two of France's finest and most charismatic racing drivers of the 1930s, Louis Chiron and Count Guy Bouriat-Quintart, is being offered for the first time at auction following an incredible 56 years in the ownership of one discerning British family.
Just as the modern-day Bugatti Veyron, Chiron and EB110 models are a contemporary car collector's dream, so the Bugatti Type 55 in its day was a much-coveted automotive jewel. Even with the backdrop of The Great Depression, the most style-conscious glitterati all aspired to the Bugatti – which was aimed squarely at the most well-heeled clientele. With a chassis price tag of 110,000 FF ($7,500), only 38 examples of the Type 55 Super Sports model were produced between 1932 and 1935, 29 of which are known to survive.
1932 Bugatti Type 55 at Le Mans
This high-performance machine, considered by many as the pinnacle of Bugatti's sports cars, was regarded in period as very much a Grand Prix car in sports car clothing, powered by a 2.3-litre supercharged twin-cam 8-cylinder engine – only slightly detuned compared to its source, the multiple Grand Prix-winning Bugatti Type 51. Even in 1932, its blistering performance boasted 0-60mph acceleration in 13 seconds and the hitherto unheard-of top speed – for a road car – of 115mph.
This particular Bugatti has a great racing pedigree, having contested the 1932 Le Mans 24-Hour race, with France's Louis Chiron and Count Guy Bouriat-Quintart at the wheel. To meet the event's regulations, the car was fitted with a temporary 4-seat body, but sadly its fuel tank split after three hours' racing, forcing its retirement.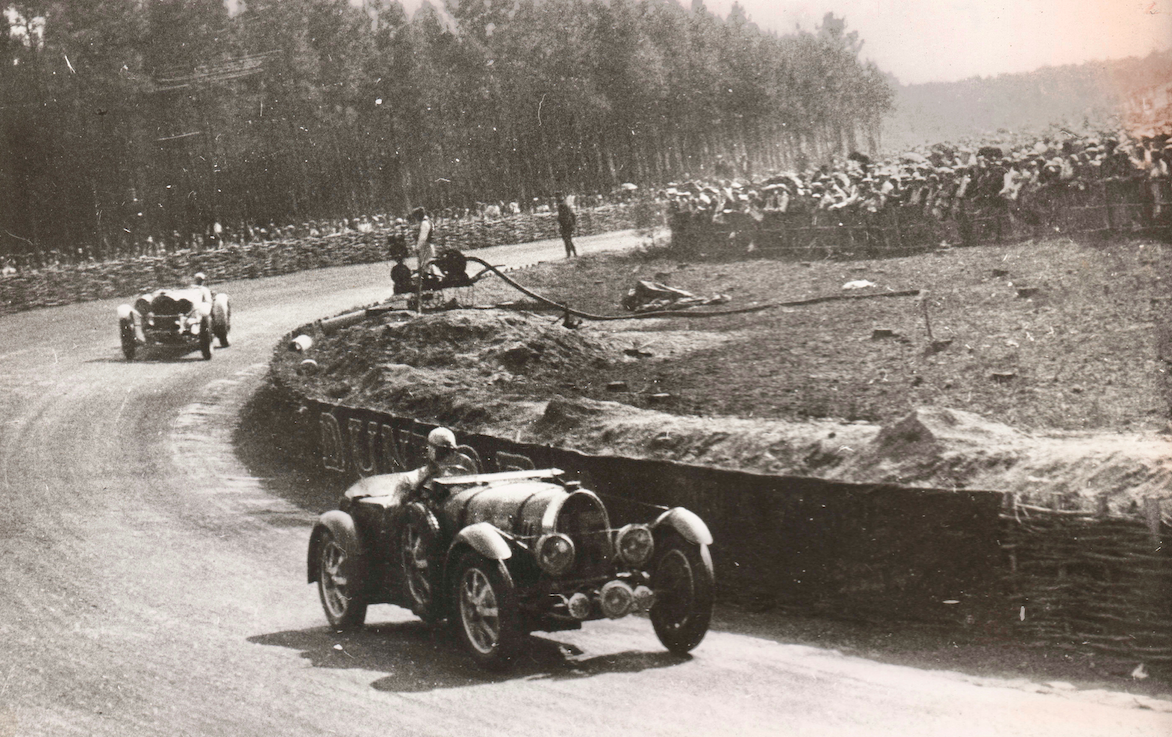 1932 Bugatti Type 55 with Figoni Coachwork
Immediately after Le Mans, the car was sold by Count Bouriat to wealthy French magazine publisher Jacques Dupuy. Most Bugatti Type 55s featured bodywork to a much-praised, high-fashion, doorless design by Jean Bugatti, son of company founder Ettore Bugatti.
However, Dupuy, a great motoring enthusiast, commissioned noted automotive designer Giuseppe Figoni of Boulogne-sur-Seine, Paris, to create unique coachwork in a striking two-seat Type 55 style, but crucially with two highline doors, providing practicality for both ease of access and protection from the elements with its wind up windows, whilst retaining a fluent line uniting bonnet, sweeping wings and graceful tail – which many considered improved upon Jean Bugatti's work.
Fresh from being rebodied by Figoni, the Type 55 promptly entered the 1933 Paris-Nice Rally, driven by new owner Dupuy. He also entered it successfully for La Journée de l'Elégance et de l'Automobile au Bois de Boulogne concours d'élégance event, in which it also – predictably – excelled.
The Bugatti subsequently survived the Second World War in France and was brought to England in 1962 by A.A. Morse, being acquired by fellow Bugatti connoisseur – and leading Vintage racer – Geoffrey St John in 1963.
It was first restored in 1966, and some thirty years later was restored once more following road accident damage sustained in France. Most significantly, its chassis was not restored following that incicent, but painstakingly repaired by respected specialist Gino Hoskins, following that incident.
Despite this experience, the Bugatti and its owner continued to re-cross La Manche repeatedly but now the time has come to entrust this very special motor car to a new custodian.
Top Bugatti Auction Results
Bugattis are among the most desirable automobiles in the world. However, somewhat surprisingly, only one has ever sold for more than $10 million (nominal) at public auction.
The current Bugatti marque record is held by a 1932 Bugatti Type 55 Roadster that sold for $10,400,000 at the Gooding Pebble Beach 2016 sale. The only other Type 55 sold at auction in recent years was a 1931 Bugatti Type 55 Roadster that achieved $4,070,000 at Gooding Scottsdale 2018.
This listing takes only nominal prices into account. If adjusted prices are used, the 1931 Bugatti Royale Kellner Coupe that Christie's sold for $9.8 million in 1987 would be near $22 million in today's money. If it comes up for auction now, it would probably fetch more than "just" $20 million. Similarly, the 1931 Bugatti Royale Berline de Voyage that Kruse sold for $6.5 million in 1986 would be around $15 million in current money.
Paris Retromobile Week Auctions 2020
Classic Car Auctions
The traditional Paris Rétromobile Week auctions in early February include:
Paris Auction Results 2020:
Press Releases 2020:
Paris Rétromobile Week 2019 Auction Results