Barrett-Jackson raised $7,625,000 for charity at the Scottsdale 2020 collector car auction. The first 2020 Chevrolet Corvette Stingray and 2021 Lexus LC500 Convertible earned millions when sold for charity.
Barrett-Jackson continued its tradition of selling top cars for charitable purposes at the Scottsdale 2020 collector car auctions. Barrett-Jackson raised $7.625 million from nine vehicles during the 49th Annual Scottsdale Auction, January 11-19, 2020, bringing the total raised on the Barrett-Jackson auction block for charity to more than $126 million to date.
Top Charity Results at Barrett-Jackson Scottsdale 2020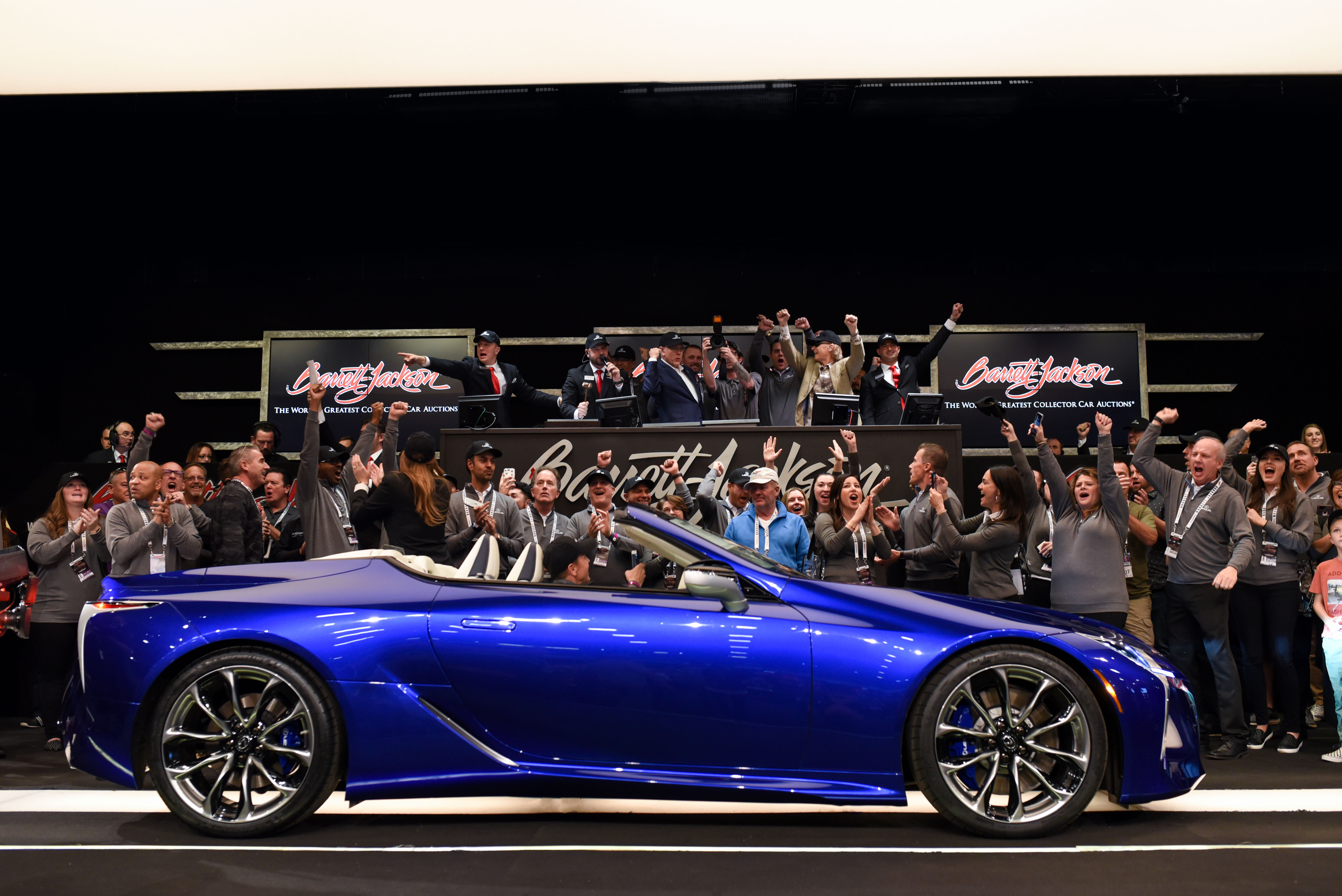 Global carmakers sold the rights to a pair of first production vehicles during the week, including the world's first mid-engine Corvette, the 2020 Chevrolet Stingray VIN 001 (Lot #3007) that sold for $3 million and was introduced by Barrett-Jackson's special guest Mary Barra, CEO of General Motors. On Friday, the first production 2021 Lexus LC 500 Convertible Inspiration Series VIN 100001 (Lot #3003) sold for $2 million. These were among the top-ten results of all car auctions at Scottsdale 2020 and among the ten most-expensive cars sold at auction in 2020 thus far.
Over the years, Barrett-Jackson Auctions have become a destination for buyers seeking to own a first production vehicle. On Friday, the rights to own the first-ever 2021 Lexus LC 500 Convertible Inspiration Series (Lot #3003) hammered in at $2 million to benefit Boys & Girls Clubs of America and Bob Woodruff Foundation. On Saturday, GM CEO Marry Barra welcomed a packed house as bidders vied for the chance to own the first retail production 2020 Chevrolet Corvette Stingray (Lot #3007), a black-on-black Corvette 3LT loaded with every available option. The winning bid hammered in at $3 million and will benefit the Detroit Children's Fund.
"Reaction to the mid-engine Corvette was incredible," said Mary Barra, GM Chairman and CEO, who was on the block to introduce the first production mid-engine Corvette. "It's both humbling and exciting to harness that success and support the local community through the Detroit Children's Fund."
"Charity vehicles are the soul of our auctions," said Craig Jackson, chairman and CEO of Barrett-Jackson. "Supporting the community was the purpose of the first event my family helped create almost 50 years ago. Over the years, we've supported medical research, funded education initiatives and provided money for programs that champion our nation's military heroes and first responders. We're proud of the funds and awareness we've been able to help raise. It was especially an honor to welcome GM CEO Mary Barra to the auction block be part of the historic sale of the first retail production 2020 Chevrolet Corvette."
Charity Results at Barrett-Jackson Scottsdale 2020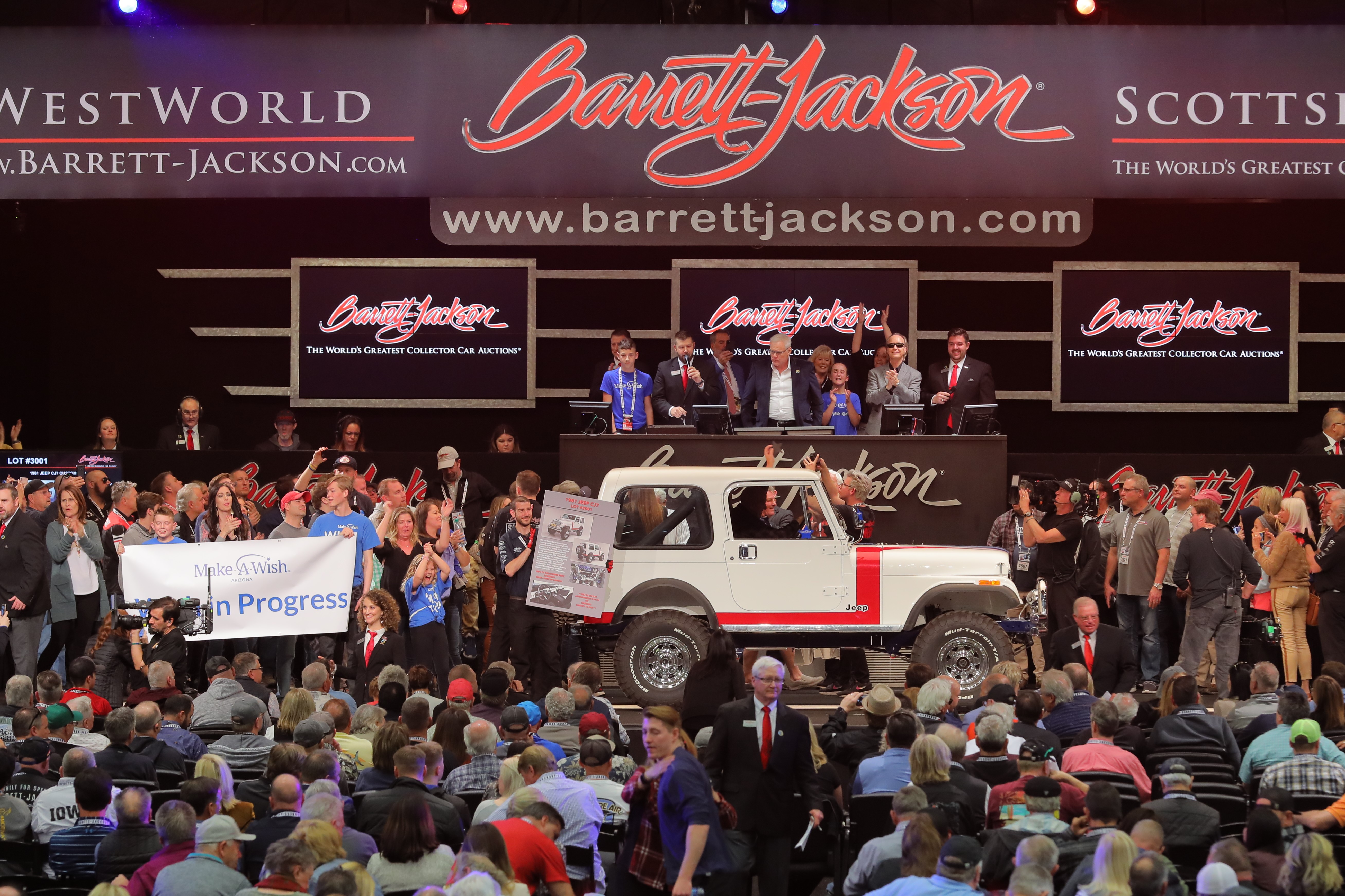 The charity auctions kicked off on Thursday with the sale of a custom Foose-designed GTX custom coupe (Lot #3000), which was owned by MotorTrend's Chris Jacobs and sold for $300,000 to benefit the C4 Foundation. A 1981 Jeep CJ7 Custom SUV (Lot #3001) was sold and re-donated on the block three times for a total of $425,000 raised to benefit Make-A-Wish Foundation. Special guest 13-year-old Make-A-Wish recipient Will Wade fulfilled his wish by accompanying Craig Jackson on the block and hammering in the final sale of the Jeep.
"There's not a group of people more united in the drive to eradicate sickness, improve education and support our nation's veterans than the collector car community," said Steve Davis, president of Barrett-Jackson. "We're so honored to be trusted by the world's top car companies and consignors to help carry their missions of helping others. We take our stewardship of these charity cars very seriously and we're grateful to have played a part in raising over $7 million dollars for these extremely worthy causes during our 2020 Scottsdale Auction."
Other charity vehicles crossing the block in Scottsdale included:
At Scottsdale 2019, Craig Jackson purchased the VIN 001 of the 2020 model year Ford Shelby GT500, which raised $1.1 million for the non-profit organization JDRF. This year, he continued that philanthropic tradition by purchasing the 1965 Superformance MKII for $200,000, which benefited the TGen Foundation.
Barrett-Jackson's next auction is 2020 Palm Beach Auction while many other auctioneers are heading for Paris in February and Amelia Island in March.
Scottsdale and Arizona Car Auctions 2020
Scottsdale & Arizona Auctions 2020
Many auction houses have sales during the annual Scottsdale week in mid-November, including amongst others:
Scottsdale & Arizona Sales 2020 – Auction Results
Scottsdale & Arizona Sales 2020 – Auction Previews
Scottsdale & Arizona Press Announcements 2020
Scottsdale, Arizona, 2019 Auctions Sale Results